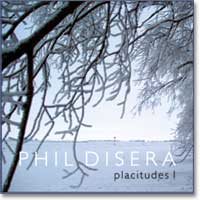 Placitudes I
"Placitudes I" serves as a soft, relaxing, musical expression for your enjoyment.
Although a soothing instrumental album, the melodies are strong enough to never lose momentum. "Placitudes I" is also an extremely thoughtful blend between solo instrument vignettes, and full orchestral soundscapes interspersed.
Enjoy this debut of Phil's "Placitudes" series for your placid moments.
Platitudes I Sample:
Buy Using PayPal
(Your credit card is processed through Paypal.
You do not need a Paypal account to do this.)

Canadian
Orders

US
Orders

Inside Outside
Inside Outside is the debut collection of Phil Disera's instrumental works. Having strong acoustic roots, Phil's music highlights the lyrical stylings of his classical guitar melodies, along with contributions by his colleagues on flute, saxophone, vibraphone, and percussion. As well, the album is supported throughout by an exciting, live rhythm section. In total, this Vintage Smooth Jazz CD is both accessible and stimulating.
Inside Out Sample:
(Your credit card is processed through Paypal.
You do not need a Paypal account to do this.)

Canadian
Orders

US
Orders